Lauren Gormley, O.D.
Comprehensive Eye Care, Contact Lenses, Refractive Services, and Co-Management of Post-Operative Care
"My love for eyes began at my first eye exam when I was 8 years old. I was a curious child and asked my eye doctor tons of questions about every step of the examination. She patiently answered all of my questions and when I left the office that day I turned to my parents, fascinated, and told them I was going to be an eye doctor. I've never changed my mind, and my passion for optometry grows everyday. I can't imagine a better profession for me! "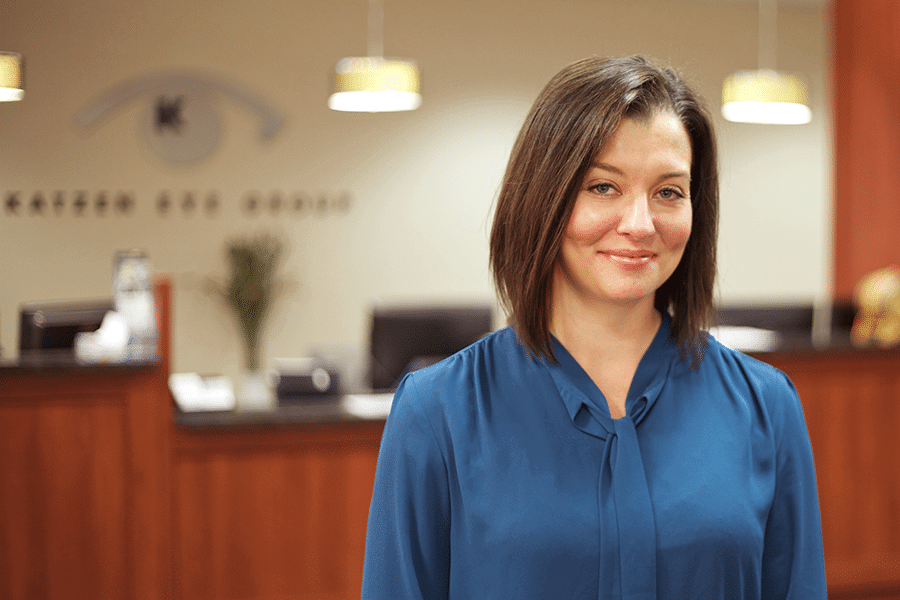 Dr. Gormley joined Katzen Eye Group in 2007. She attended the University of Maryland Baltimore County, studying Biology, and received her Bachelor of Science in Optometry as well as Doctorate of Optometry from the Pennsylvania College of Optometry at Salus University.
Dr. Gormley is a certified wave designer using the top of the line Scout Keratron topographer. This technology allows a patient to have a custom contact lens made based on the unique topography of their cornea as well as their glasses prescription. In addition to custom contact lenses, Dr. Gormley is the contact lens specialist for Katzen Eye Group addressing complex rigid gas permeable contact lens fits, and patients with the degenerative corneal disease Keratoconus.
Dr. Gormley is active in the optometric community as a member of the Maryland Optometric Association, serving as the Chair of the New Optometrist Committee and as the Vice President of the Greater Baltimore Optometric Society. Nationally, Dr. Gormley is a member of the American Optometric Association, and the American Optometric Associations Vision Rehabilitation Section. She works with the optometry students at Pennsylvania College of Optometry at Salus University, as the doctor liaison to the Maryland Student Optometric Association, which she helped to establish at the university in 2007. In recognition of her outstanding service to the optometric profession and citizens of Maryland, Dr. Gormley was named Maryland's 2009 Young Optometrist of the Year.
As a native of the Eastern Shore of Maryland, Dr. Gormley enjoys the spending time at the beach as well as volunteer work, music and theater.