Corinne Casey, O.D., F.A.A.O.
Comprehensive Eye Care, Refractive Services, and Co-Management of Glaucoma and Post-Operative Cataracts
"In college I took a course called"Anatomy of Vision" where I learned the cellular structures, connections, and neurological processes that play a role in sight. Now I enjoy combining that knowledge of anatomy with advanced technology and personal care to enhance vision, overall health, and quality of life for my patients."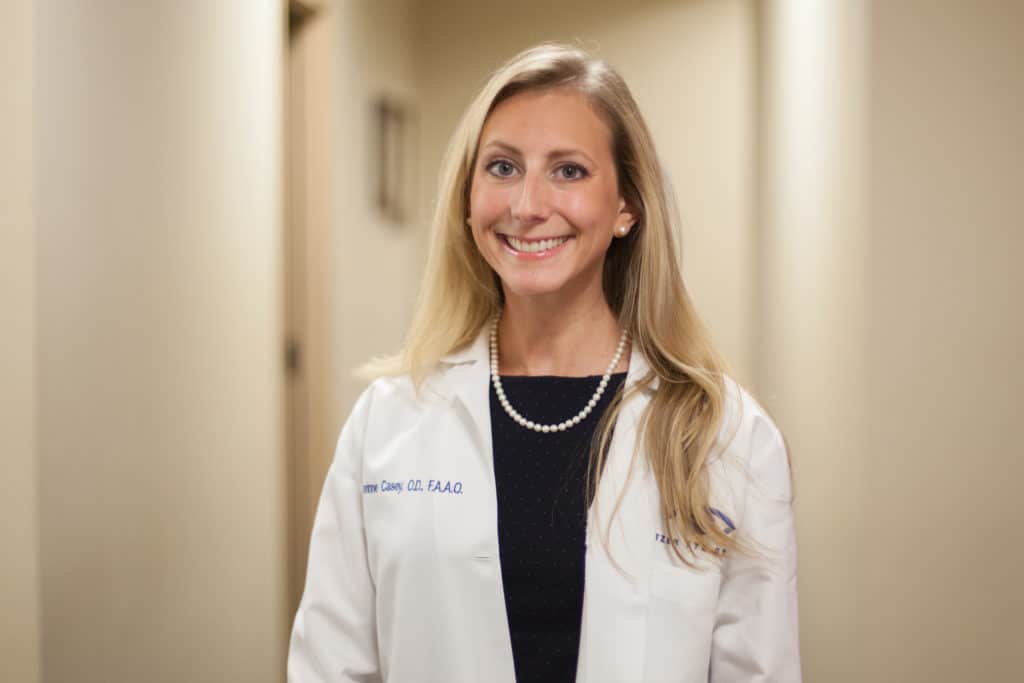 Dr. Corinne Casey joined Katzen Eye Group in 2014. She graduated magna cum laude from Lafayette College with a Bachelor of Science in Biology and received her Doctor of Optometry from The New England College of Optometry, where she was named salutatorian of her class. While completing her residency in Ocular Disease at the Department of Veterans Affairs in Baltimore, she focused on care of patients in a hospital-based setting and gained proficiency in diagnosis and management of: glaucoma, cataracts, retinal disease, neuro-ophthalmic conditions, and ocular manifestations of systemic conditions. During that time, she also trained with the faculty from the Wilmer Eye Institute at Johns Hopkins Hospital in the sub-specialties of glaucoma, cornea, and specialty contact lenses. As a previous consultative optometrist at a Anne Arundel Eye Center, a glaucoma and cataract practice, she gained further experience in care of ocular diseases and surgical co-management.
Dr. Casey has presented patient cases at the American Academy of Optometry and given lectures at continuing education events for Maryland optometrists. In October 2015, Dr. Casey was awarded Fellowship in the American Academy of Optometry. In addition to staying involved in academia, she has volunteered for local screenings and service events.
Outside of work, Dr. Casey can often be found trail running, camping (in any weather condition), or enjoying live music.